Vitapantol
Intranasal ointment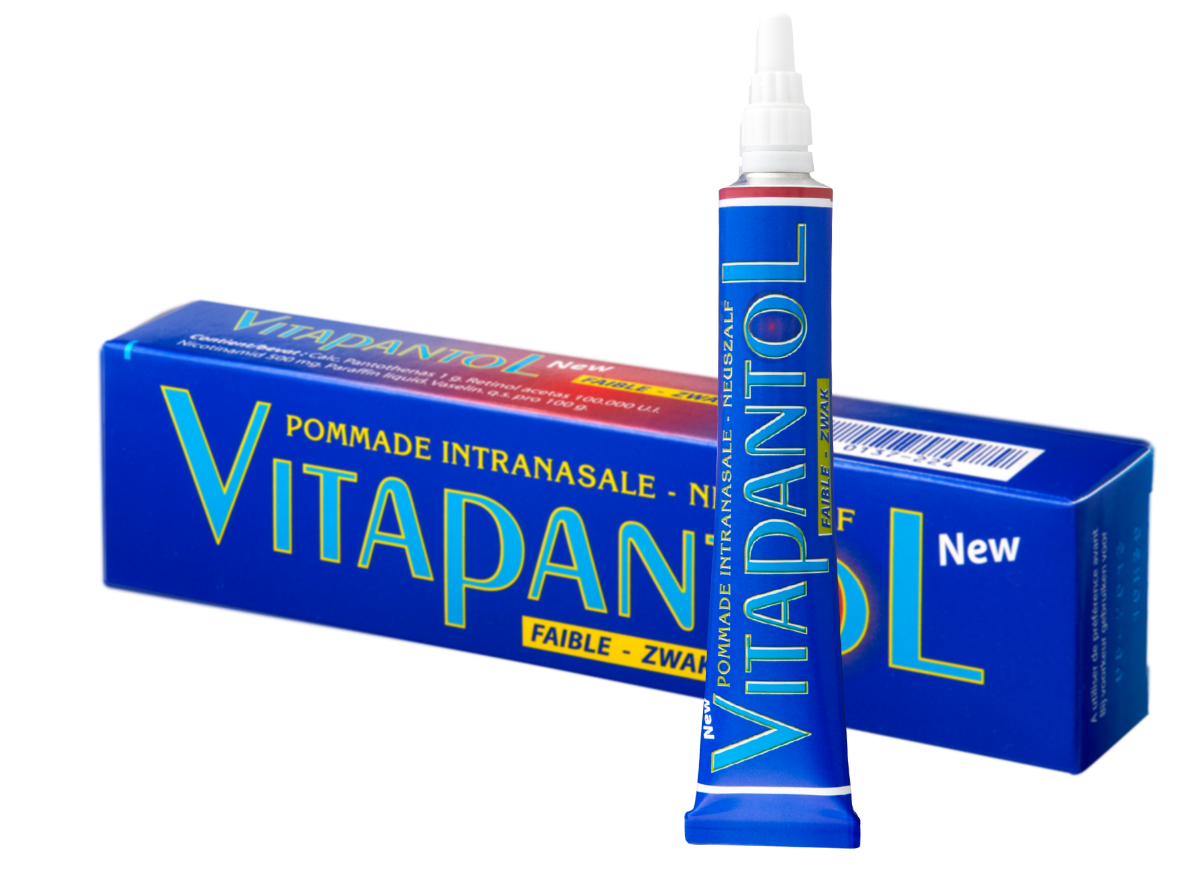 Vitapantol is a regenerating and softening nasal ointment, made from multivitamin elements that have a favorable action on the balance and healing of the nasal mucosa.
Prescribed for Children and adults with delicate mucosa.
Two or three applications a day of Vitapantol low, administer a sufficient amount of ointment.
Vitapantol low (without geranium essential oil) is the best choice for people with allergies. The use of Vitapantol should be as short as possible.
Vitapantol device
Description of  a class 1 medical device
Association of retinol, nicotinamide and calcium pantothenate
Vitamin A (retinol acetate): plays an important role in the physiological process of healing and has a favorable trophic action on the nasal mucosa
Vitamin B3 (nicotinamide or vitamin PP): plays an important role in the cell metabolism and restores the mucosal balance
Vitamins B5 (calcium pantothenate): contributes favorably to the cellular metabolism and reinforces the favorable action of vitamin A in the healing process of the nasal mucosa



Specific to Vitapantol regular (with geranium essential oil): Vitapantol regular should not be administered to people susceptible to hay fever because geranium essential oil can be irritating. In this case, use the Vitapantol light.
Hypersensitivity to any of the components of the preparations.
Vitapantol regular and Vitapantol low should not be administered in children less than 3 years of age.
Due to some possible resorption of vitamin A, the risk of hypervitaminosis in case of prolonged treatment – especially in young children – is theoretically possible.
Chronic hypervitaminosis in children results in growth disorders, intracranial hypertension and papillary edema simulating brain tumors.
Pregnancy and breast-feeding
Use with caution during pregnancy and lactation: vitamin A passes into breast milk.
Acute intoxication can occur following absorption of very high doses of vitamin A (in adults: 1,500,000 IU at once). An intact tube of Vitapantol regular contains 33,000 IU of vitamin A and a tube of Vitapantol low contains 16,500 IU. Acute intoxication, even accidental, is very unlikely.
Use with caution during pregnancy and lactation: vitamin A passes into breast milk.